For free Stationery with animal themes of all kinds, go to
Diana's Stationery
My site is a family friendly place to find a variety of FREE, useful, and creative stationery for Outlook Express, Microsoft Outlook, or Incredimail. There are hundreds of OE stationeries from which to choose, and there are many categories - some of which are not common on other stationery sites. I have Christian, Jewish, Angels, Cats, Floral, Animals, Birds, Butterflies, Holidays, Patriotic, Scenic, Watermarks, & Miscellaneous categories. The pages show large thumbnails, and the graphics and HTML script can be downloaded together in a self-executable file, a zip file, or an EML file. There are no obnoxious pop-up ads or annoying banners. A Site Search feature is available to help you find just what you are looking for.
For free screen savers, sig/tag blanks, and other graphics with animal themes, go to the "Fun Stuff" section at Bender Place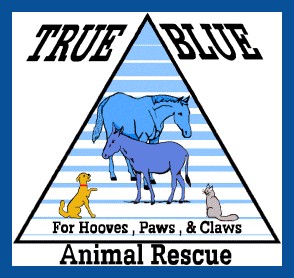 A Texas organization devoted to rescuing neglected
horses, cats, and dogs, is True Blue Animal Rescue.
They are working hard to fill a great need in Washington County and surrounding areas. Take a look at their web site and help them out with a donation or by joining and volunteering your time and efforts. Also, if you are looking to adopt a horse or a dog - or to foster one - this is a good place to start looking.
CAT'S CRADLE is a rescue organization, adoption shelter, and sanctuary for homeless cats and kittens. The facility occupies several acres and includes a number of buildings, each one housing felines with a different set of needs. They are located
15 miles South of Bryan-College Station, Texas.
A remarkable organization called REINS OF LIFE exists in Texas. Founded by Carol Anderson, it is an equine assisted therapy program designed to benefit children and adults with special needs. This wonderful program is a blessing to people and animals alike. Please visit their website and take a look at what they are doing.
"Animals in Heaven?" That's the title of an insightful and moving video by Bible scholar Dr. Jack Van Impe and his wife, Rexella. It gives comfort and hope to all who grieve over losing their beloved pets and animal companions. Click here and go to "Catalog", "Video Tapes" for more information.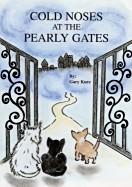 ANC Update, which is sent out by Animal News Center via e-mail on a weekly basis, features summaries of top pet, wildlife, farm and laboratory animal stories. The newsletter provides the latest information regarding cat and dog overpopulation, species extinction, factory farming, cloning, the punishment of individuals convicted of animal cruelty and many other animal-related issues.
---
For an excellent line of totally safe and effective cleaning products, personal care products, and pet care products - visit
Solutions 4 You by clicking on the logo here. Stop poisoning yourself and save money at the same time!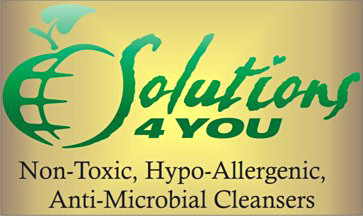 ---
Not all Colloidal Silver generators are created equal.
For the best, shop at Silver Edge.

What is Colloidal Silver?


Answer: One of the most powerful and effective antimicrobial agents known to man. It is clinically proven to kill over 600 pathogens including forms of bacteria, funguses, and viruses. Can be used safely, simply, and inexpensively in both humans and animals.
For a brief introduction, download this PDF file.

---
Looking for a New Pet?
Lost or Found a Pet?
These web sites will point you in the right direction:
PETFINDERS
911 PET ADOPTIONS
800 SAVE A PET
Shelter Rescue Links
---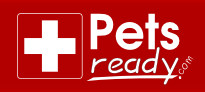 EMERGENCY PREPAREDNESS KITS FOR CATS AND DOGS
Emergency Preparedness Kits, Disaster preparedness info for cat and dog owners, preparedness articles, latest food recalls, and much more.
---

Animal Resources is a unique animal welfare organization dedicated exclusively to rescuing and sheltering animals in disasters throughout the United States and Canada.

Supporting Our Deployed Service Members and The Mascots They Love
Military Mascots is a grassroots all volunteer effort dedicated to the assistance of US deployed Service Members who have befriended a Mascot on Foreign Ground.
Mission: To heighten the Morale and support of US Service Members with mascots by offering care packages from "home" and providing them with Veterinarian and Humane Society contacts on their side of the world that may be of guidance in shipping their Mascots home to their families.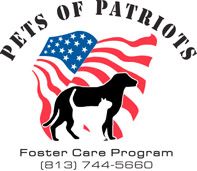 This coalition provides support American military personnel for their animals in a number of ways: through offering to become foster families, by donating money, or by supplying items such as blankets, towels, treats, cat litter, or animal carriers.
Meet the Canine Heros of 911 http://www.ctlegalguide.com/SlideShow/caninetribute.htm
---
CHAI - Israel's hard-working organization helping animals. Chai means "Life" in Hebrew, and this group saves many animal lives, as well as working to protect animals from inhumane treatment. It is a 501(c)(3) non-profit organization formed in 1984 in the United States and listed on GuideStar.
---
Wild Horse Foundation - Find out what you can do to help stop the slaughter of America's wild horses.
---
If you shop at Amazon.com, you can help fund a worthy organization dedicated to ending the pet over-population tragedy. Use this link to access Amazon and they will donate 15% of your purchase to "Prevent a Litter Coalition". It doesn't cost you a thing extra.
Prevent A Litter Coalition

If you do any shopping online, you can (at no extra cost to yourself) help support the very worthwhile organization, Physicians Committee for Responsible Medicine, by connecting to any one of several dozen various online-shopping web sites through the PCRM Mall Vendors page at http://www.pcrm.org/pcrm/mall.html
The list contains vendors of everything from books, to flowers, to health food, to jewelry, and more. When you visit those vendors by way of the PCRM link, a percentage of each sale is donated to PCRM to support its many excellent programs which benefit both humans and animals. Why not put this link on your desktop for handy access the next time you need to shop online?

Another site which helps animals is The Animal Rescue Site. All you need to do is go there and click on the "Feed An Animal in Need" button. Doesn't cost you a thing. I keep a shortcut to the site on my desktop to remind me to go click once every day.


---

If you live in Texas and are looking for a companion animal to adopt, visit one of the following. Also please consider supporting an organization with whatever you can afford.

Pet Solution
A non-profit group based in Midland which seeks to stop animal overpopulation through education and awareness. This organization also has dogs and cats to adopt.

Creekside Farm Horse Rescue
This non-profit sanctuary is dedicated to helping abused and neglected horses. You can find wonderful horses of all sizes to adopt if you are qualified.

S.T.A.A.R (South Texas Animal Adoption Resource)

PAWS Houston
A non-profit organization that serves the needs of low-income pet owners who are living with a terminal illness

Brazos Animal Shelter
Helps animals in eight counties in the Texas Brazos Valley region

PAAWS of Texas
The primary mission of this Burleson County group is to operate as a shelter to take in and find appropriate homes for abandoned or abused animals, and to operate as a sanctuary for animals that have not been adopted or whose owners have died or been put in nursing homes.

Kerville Humane Society
The Humane Society of Kerville is a 501c3 non-profit, and is dedicated to placing as many animals as possible in quality homes.

Horse Talk Equestrian Consortium
This is an excellent resource for horse owners. You can ask questions and get them answered online. There are many pages of suggestions and information.

Noah's Ark Animal Sanctuary
Noah's Ark is a 501c3 non-profit No-Kill animal welfare organization. Our mission is to take in and assist animals from other shelters that are scheduled to be destroyed.

Little Woman Home for Animals
This is a non-profit organization committed to providing lifetime care to abandoned and unwanted animals.

Animal Defense League of Texas
The This is the largest 'no-kill' non-profit animal shelter in the Southwest, celebrating over 70 years of operation.

San Antonio Animal Friends
Animal Friends is a 501(c)3 non-profit Texas corporation established in the summer as a no-kill adoption shelter for San Antonio, Bexar County and the surrounding area.

Mr. K's Holiday House
This is a non-profit (501c), no-kill Houston pet shelter whose sole support comes from donations and adoption fees.

Safe Harbor Pig Refuge
This non-profit 501c3 for pigs and other animal is located in London, Texas.

Texas Marine Mammal Stranding Network
Dedicated to conservation of marine mammals through rescue and rehabilitation, research and education

---

Veg For Life
Free Online Recipe Book for Vegetarian Eating. Download in Adobe format.

---

For Information on Humane Charities
http://www.humaneseal.org/

For Information on Humane Products
http://www.leapingbunny.org/

---

For beautiful and unusual cat collars with safety releases, go to Kitty Planet. You will also find other terrific items there for cats. A portion of all sales goes to animal shelters.

Wonderful animal sculptures for sale! If you like animal sculptures and want to help a very worthy animal charity, take a look at http://www.strays.ca/ . Barry Tuddenham makes and sells delightful animal sculptures, as well as pet memorials, and uses all profits to help stray animals. His site also lists - at no charge - LOST and FOUND PETS. Don't miss this unique site and its offerings.
---
Check for information on charities
See where your money is going
Guidestar - GuideStar, the national database of U.S. charitable organizations, gathers and distributes data on more than 850,000 IRS-recognized nonprofits.
Guidestar Search - Easily search Guidestar's database by various criteria.
Charity Navigator - search for evaluations on more than 2500 charities.
Just Give - set up or search for donation registries for weddings, birthdays, etc.
---
Questions about VACCINATING your PET?
See Critter Advocacy for information.
---
Free Medical Help For Pets
If you or someone you know needs monetary assistance for medical help for your pet, check with United Animal Nations. They have a program to help pay for operations, procedures, rehabilitations, medicines, and other medical needs. Click on their LifeLine link.
---
FREE ONLINE MERCK VETERINARY MANUAL
---

---
Animal Abuse Information - http://www.pet-abuse.com/database/
Animal People Online - http://www.animalpeoplenews.org/
Animal Protection Institute - http://www.api4animals.org/
Animal Sanctuary of the United States - http://animalsanctuaryus.org/

AVMA Care for Pets Home Page - http://www.avma.org/care4pets/default.htm
Animal Concerns - http://www.animalconcerns.org
Animal Welfare Institute - http://www.awionline.org/
Association of Veterinarians for Animal Rights - http://www.avar.org/
Bioganic SAFE pest control products - http://www.earthlogix.com/
Blue Voice Whale & Dolphin Protection - http://www.bluevoice.org
Bonafido - http://www.bonafido.com/index.html
Cancer Society Promotes Disease - http://www.americancancersocietypromotesdisease.org/
Cat Breed Rescue Groups list - http://www.netcat.org/rescue.html

Central Nebraska Humane Society - http://www.petfinder.org/shelters/NE13.html
College of Veterinary Medicine Pet Columns - http://www.cvm.uiuc.edu/petcolumns/
Dedication & Everlasting Love to Animals - http://www.deltarescue.tv
Doctors Against Premarin - http://www.doctorsagainstpremarin.org/
Dog Breed Rescue Groups list - http://www.thepoop.com/search_rescue.asp
Doris Day Animal League - http://www.ddal.org

Farmed Animal Network - http://www.farmedanimal.net/
The Foundation for Interdisciplinary Research and Education Promoting Animal Welfare - http://www.firepaw.org
Friends of Animals - http://www.friendsofanimals.org/
Fund for Animals - http://www.fundforanimals.org/Home/
Fund for Horses - http://www.fund4horses.org/
Hearts and Hooves - http://www.heartsandhooves.org
Hemopet Non-profit Animal Blood Bank - http://www.hemopet.com
Homeless Pet Placement League - http://www.hppl.org/
Hopeful Haven Equine Rescue - http://www.hopefulhaven.com/
House Rabbit Network - http://www.rabbitnetwork.org
In Defense of Animals - http://www.idausa.org/
Korea Animal Protection Society - http://www.koreananimals.org/
Last Chance for Animals - http://www.lcanimal.org/
Life Savers Inc. Wild Horse Rescue - http://www.wildhorserescue.org/
Maddie's Fund - http://www.maddiesfund.org/
National Equine Disaster Relief - http://www.kersur.net/~santa/disasterlist.html
Net Pets - http://www.netpets.com/
Peaceful Valley Donkey Rescue - http://www.donkeyrescue.org/
Pets 911 - http://www.1888pets911.org/index.php
Pet Education Health Care, Training, Behavior & Diseases - http://www.peteducation.com/
PetTags - http://pet-tags.com/index.asp
Physicians Committee for Responsible Medicine - http://www.pcrm.org
Premarin Horses Rescue - http://pmurescue.org/
Project Hope - http://www.project-hope.net
The Humane Seal - http://www.humaneseal.org/
United Animal Nations - http://www.uan.org/
VegSource - http://www.vegsource.com/
VetCentric - http://www.vetcentric.com/
VetInfo: Veterinary Medical Information for Dogs and Cats - http://www.vetinfo.com/
Wheelchairs for Dogs and Cats - http://www.wheelchairsfordogs.com/
Wings for Greyhounds - http://www.wingsforgreyhounds.org
World Society for Protection of Animals - http://www.wspa-international.org/index.html
---
Email Lists for Animal Help
Handicats -
http://groups.yahoo.com/group/Handicats/
A list for people who have handicapped cats and would like to share with others stories, problems, and what have you with others who have wonderful special needs kitties.
Special Needs Rescue -
http://groups.yahoo.com/group/Special_Needs_Rescue/
Animals accept people for who they are, not what they should be. Don't you think that animals are deserving of the same treatment? Special Needs Rescue was designed specifically to help all animals with permanent disabilities or health problems (i.e. blind, diabetic, FeLV +, 3 legs, etc.) find their "forever homes." This list is moderated to insure that it stays true to its intended purpose. If you are willing to help find homes for an animal with special needs by adopting, fostering, or transporting, I invite you to join the Special Needs Rescue mailing list.
---
Top Ten Animal Abusers of 2001 - http://www.uan.org/campaigns/top10.html
Top Ten All-time Types of Animal Abuse - http://www.uan.org/campaigns/top10types.html
---
Best Friends Pet Care - http://www.bestfriendspetcare.com/
---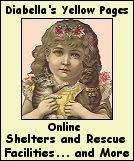 Find out where you can visit a public library with its very own Library Cat.
Visit http://ironfrog.com/
If you want a small banner to use as a link to us, the following can be used.

Or you can use this one courtesy of the webmaster at "Cold Noses at the Pearly Gates"

"Can I see another's woe, and not be in sorrow too? Can I see another's grief, and not seek for kind relief?"
William Blake